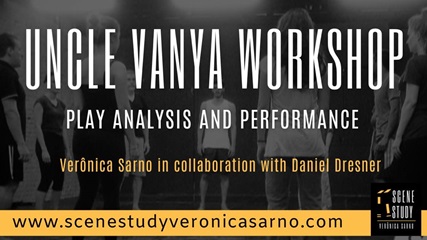 About the Workshop:
– Duration: 8 weeks
– Dates and Time: 8 Mondays from 10am to 12pm
Start date: 7th of June | End date: 26th of July 2021
07, 14 , 21 and 28 of June
05, 12, 19 and 26 of July
*the first day 07/06/2021 will be an evening session via Zoom (6pm to 8pm)
– Location: London (TBC)
Structure:
– Analysis of the play (actors to read the play before the workshop)
– Active Scene Analysis (selected scenes)
– Performance to the panel (teachers)
Week 1 – 07/06 *online: discussion of the play
Week 2 – 14/06: analysis of the selected scenes
Week 3 – 21/06: improvisation and active analysis
Week 4 – 28/06 : scene study
Week 5 – 05/07: scene study
Week 6 12/07: scene study
Week 7 – 19/07: dress rehearsal
Week 8 – 26/07: performance to the panel
Hours and Price
16 hours work
£190 total workshop fee
Email: scenestudyveronicasarno@gmail.com
About the tutor: Verônica Sarno started her career in 2005 in São Paulo, Brazil, in the local Theatre Company Folha em Branco. She studied in Brazil at Escola Superior de Artes Célia Helena, in England at Drama Centre London and Russia at the Boris Shchukin Theatre Institute. The base of her training is the Stanislavski System.
Verônica has worked extensively in film and theatre productions in Brazil and England, including the award winning two-year Brazilian national tour of Spur of the Moment by Anya Reiss and most recently the feature Anonymous by Alasdair Mackay.
As a director, Verônica has worked on Adela and Martirio for FestelõnOff Festival in London, Ground Bird by Cris Eli Blak for the Moonlit 24-hour Theatre Festival in the USA and on Indigestion by Linda Jane Butler for the Lights on Showcase in London.
As well as an Actress and Director, Verônica also works as a Voice Over Artist, manages her own teaching business Scene Study Verônica Sarno working as a as Acting and Voice tutor, has worked with many directors in the preparation phase of their productions, gave talks in Drama Schools about the importance of the voice in the acting work and signed a six-month contract with a Drama School to be the head of voice.